Exercise in comfort! Stationary recumbent bikes are the most comfortable of all exercise bikes. Recumbent bikes have chair seats with comfortable cushioning and lumbar support. They can relieve pressure from your back as you lean back to cycle, plus this type of seated biking causes less pain to joints in your ankles, knees and hips.
Recumbent bikes are the perfect exercise machine for people with limited mobility or back pain. But these comfortable cardio trainers are also popular with riders in top form. Their design prevents the pain in the rear that some people experience with upright exercise bikes. Using a recumbent exercise bike is less likely to bring muscle soreness the following day. They're also useful for rehabilitation, muscle toning and cardiovascular workouts.
Cycling is one of the best types of exercise around. You will enjoy a wide range of benefits including fat burning, improved fitness, stronger and more toned legs, and better health.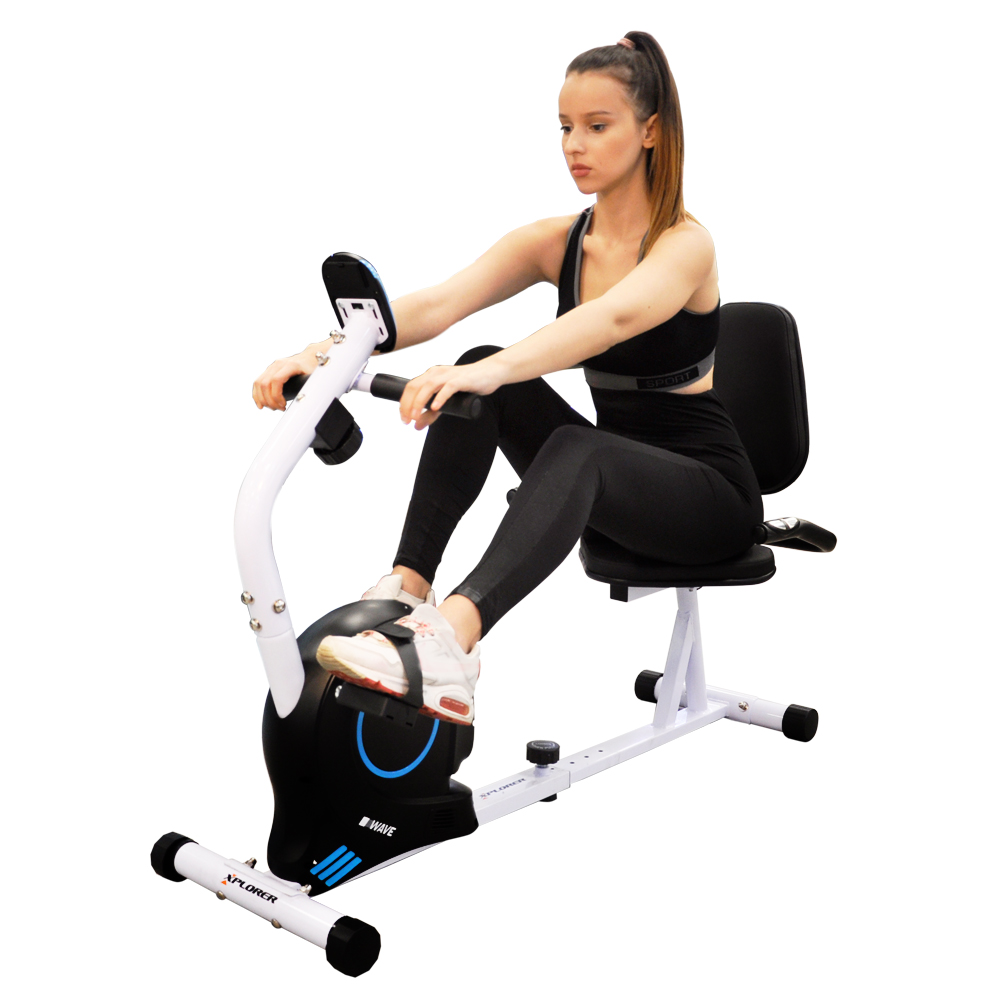 Recumbent exercise bikes also put you in the ideal position for watching TV while you exercise. This can provide the ideal distraction that many exercisers need to make their workouts more entertaining.
If you want to cycle for fitness but are concerned about comfort, or think that a regular exercise bike might be too advanced for you, consider buying a recumbent bike. They provide a great solution for the problems that some exercisers experience with regular stationary indoor bikes.
Recumbent bike Xplorer Wave is an enhanced version of the magnetic bike. It comes with a firm backrest that provides high-quality training for all kinds of users. It is an ideal exercise machine for beginners and advanced users because it provides light and intensive exercises. Training on this bicycle reduces fat, strengthens muscles and improves the cardiovascular system.
Pedal straps ensure efficient pedalling by pushing down but also lifting up.
The Xplorer Wave indoor bike comes with a 3 kg flywheel with 8 adjustable resistance levels for individual needs.
An LCD computer monitors: speed, calorie consumption, pulse, scanning, distance, time.
You can order the Xplorer Wave exercise bike at a great price from our partners:
Click on -> mimovrste.com or -> spar.si and order great Xplorer Wave recumbent exercise bike!